15631 NE 18th Street #F103 Bellevue, Washington
$220,000 683 sq ft 1 bedroom 1 bathroom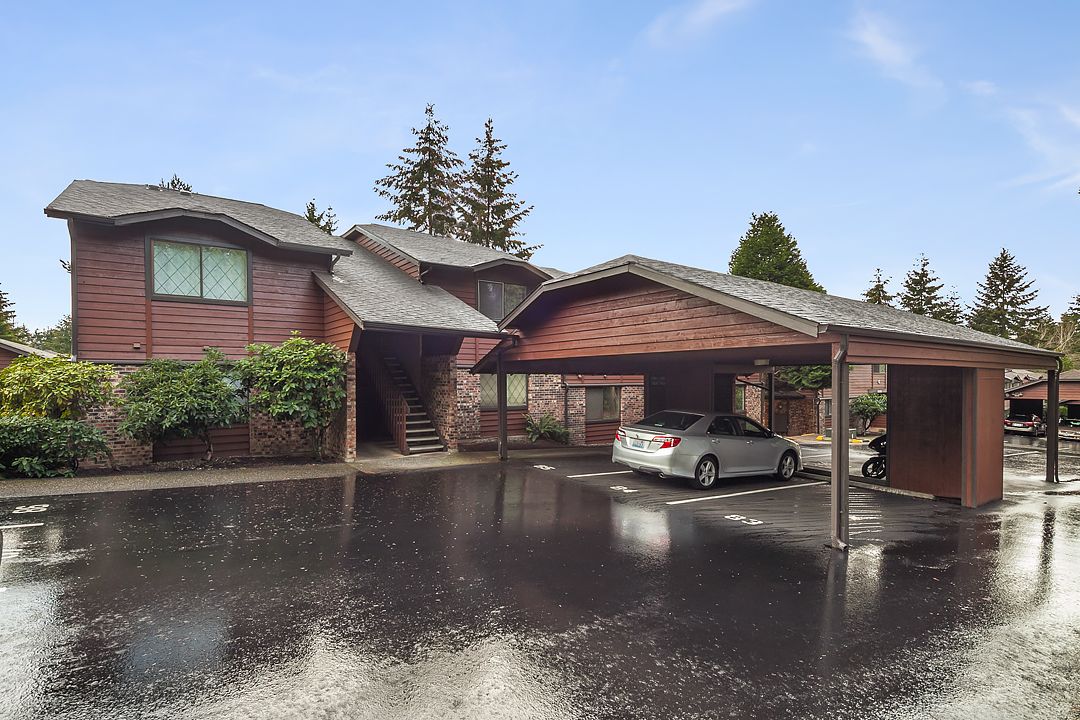 This cozy one bedroom condo has charm and location. From the moment you pull into your parking space you see beautiful trees, and unique details to compliment the excellent location in Bellevue. If you are looking for a quaint retreat into a natural setting amidst an amazing town then you can not miss this condo.

What we love about this condo: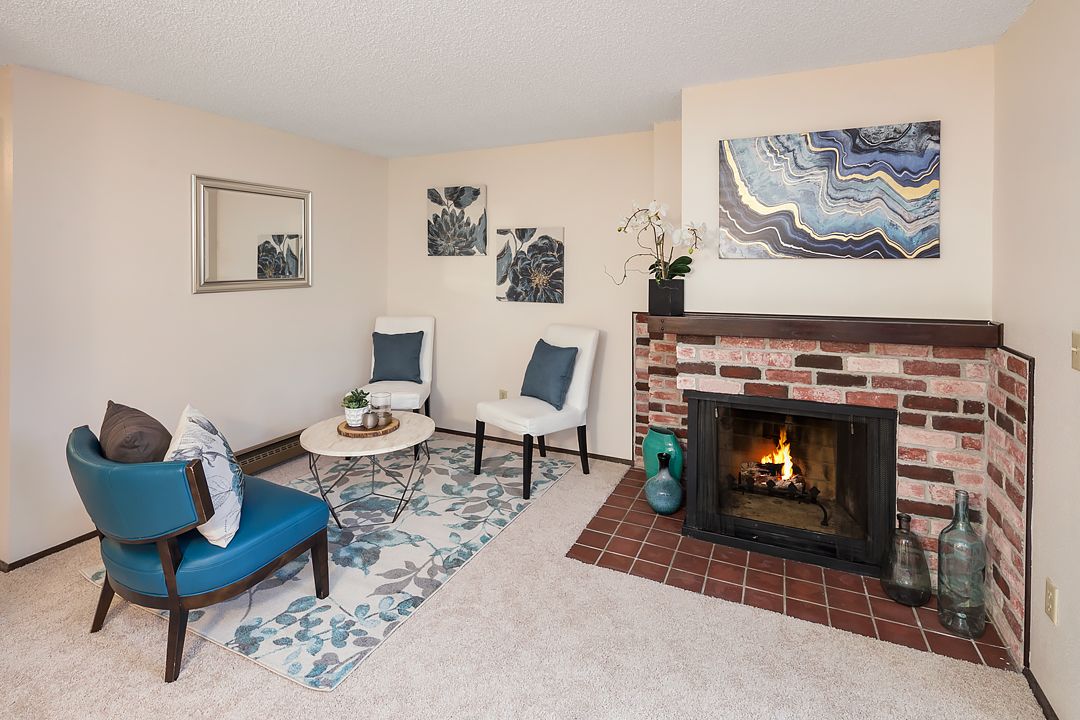 Cozy brick fireplace: What is better than relaxing by a brick wood burning fireplace? The corner fireplace is enjoyed from both the living and dining area adding a cozy warmth to the condo. The beautiful brick tones, and wood mantle coordinate beautifully with any decor.
Natural light from the sliding doors: While you are relaxing by your beautiful fireplace you are surrounded by natural light and views of your backyard and the gorgeous trees and bushes which are throughout the property. All of this provides a great outdoor/natural feeling into the condo, making it seem even larger than it is.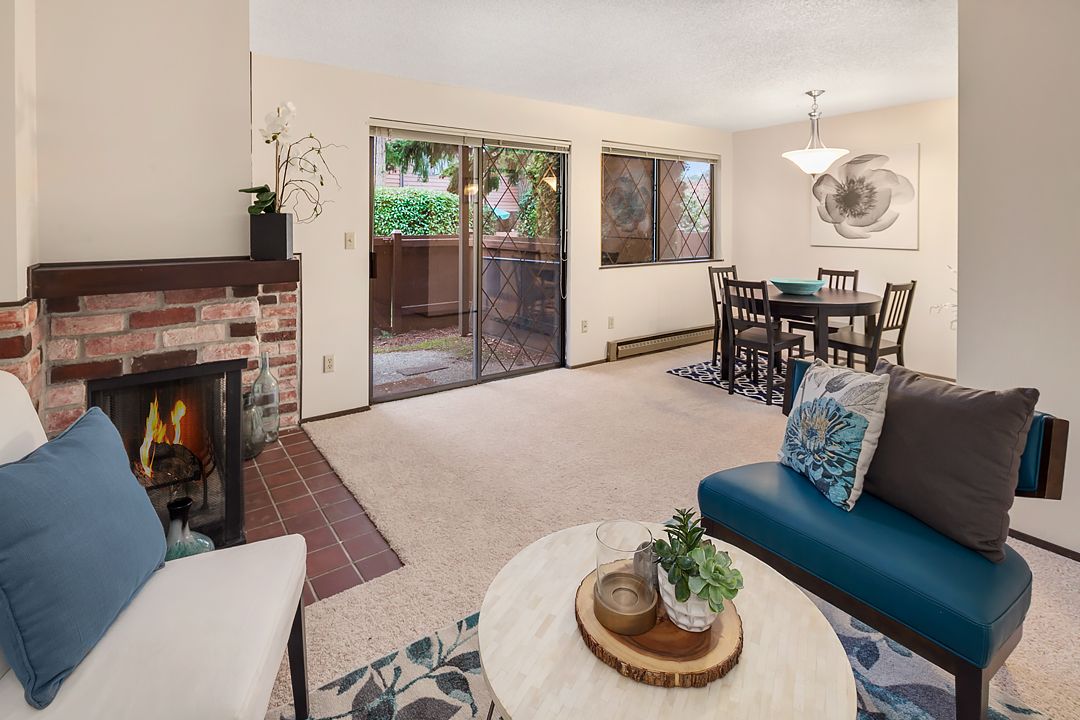 Unique window features: Small details can make all the difference in a home, like the Scandanavian style window details which are also present on the sliding glass doors. They add to the coziness of this condo and a feeling like you have escaped to somewhere different.
Neutral Pallette: There is nothing better than buying a home you can make your own as soon as you move in. With the neutral carpeting and paint in this condo the sky is the limit for you to customize this condo to show off who you are. Of course if you prefer neutrality it is a bonus to have the fresh neutral paint colors and new neutral carpet already there to compliment your taste of neutrality.
Fresh carpet and paint: You get the feeling when you walk into this condo and on to the brand new carpet and freshly painted walls that you are the first person who lived here. This doesn't just save you money it saves you the hassle of having to redo anything. You are walking into a place that is ready for you to settle in and build your home.
Living in a great location: We have all heard the saying location, location, location and with this condo that is absolutely true. You have a serene setting when you are home, but once you are ready to go you are close to the Crossroads mall, the fantastic shops and restaurants of Bellevue as well as Microsoft. Wonderful downtown Bellevue is just minutes away as are I405, 520, and I90. The condo is also located on a major bus route so getting around is so easy.
Closet space: In this condo you don't have to worry about where to put your stuff. There is lots of closet and storage space for you as well as outdoor space in your backyard. So bring your stuff and get organized easily.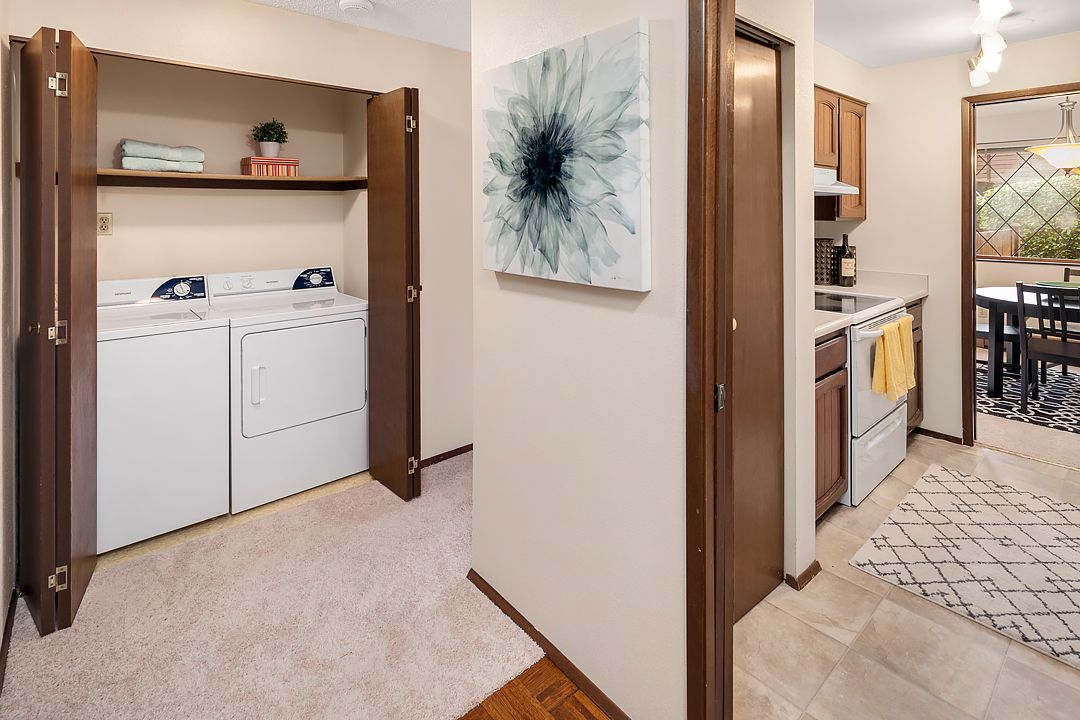 Wash & Dry your clothes while you relax: We love that you don't have to leave your home to wash and dry your clothes, there is closet space for the washer and dryer right in the condo. So, light the fire, turn on the game and never leave your apartment to do laundry. Could it be more perfect?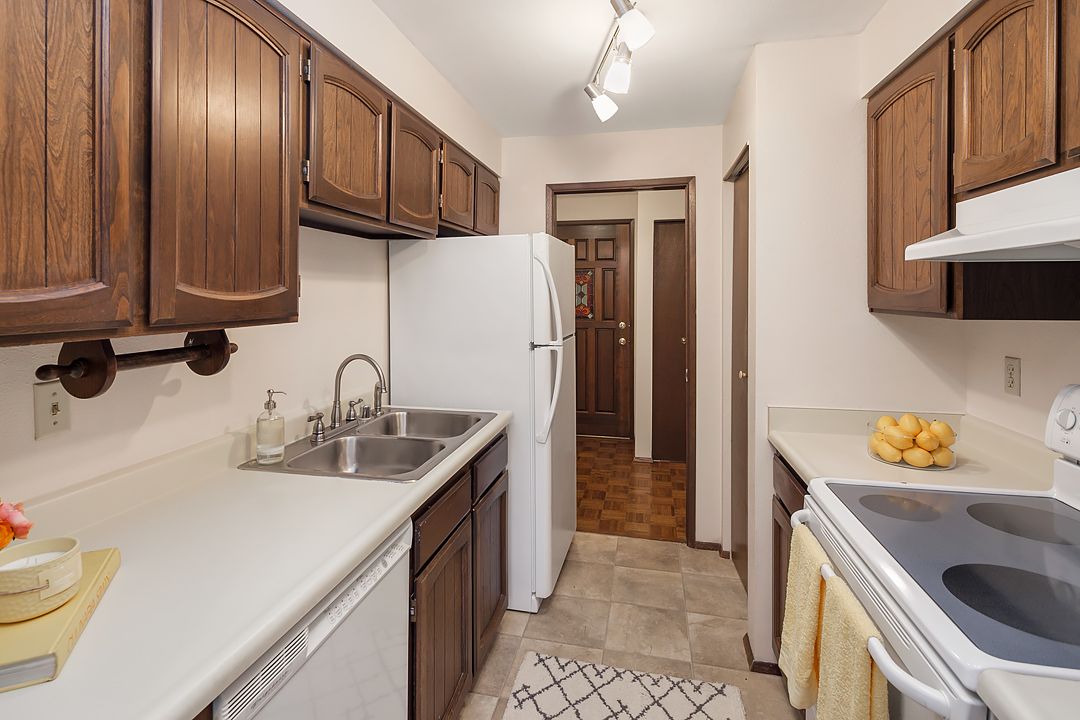 Enclosed kitchen: You will love the ample counterspace, drawers and cabinets in this enclosed kitchen. With all this space you can cook up the perfect meal to serve in your dining room or outdoor eating area. The neutral kitchen is ready for you to put your finishing touches on it. The tile floor is easy for clean up while adding warmth to the space.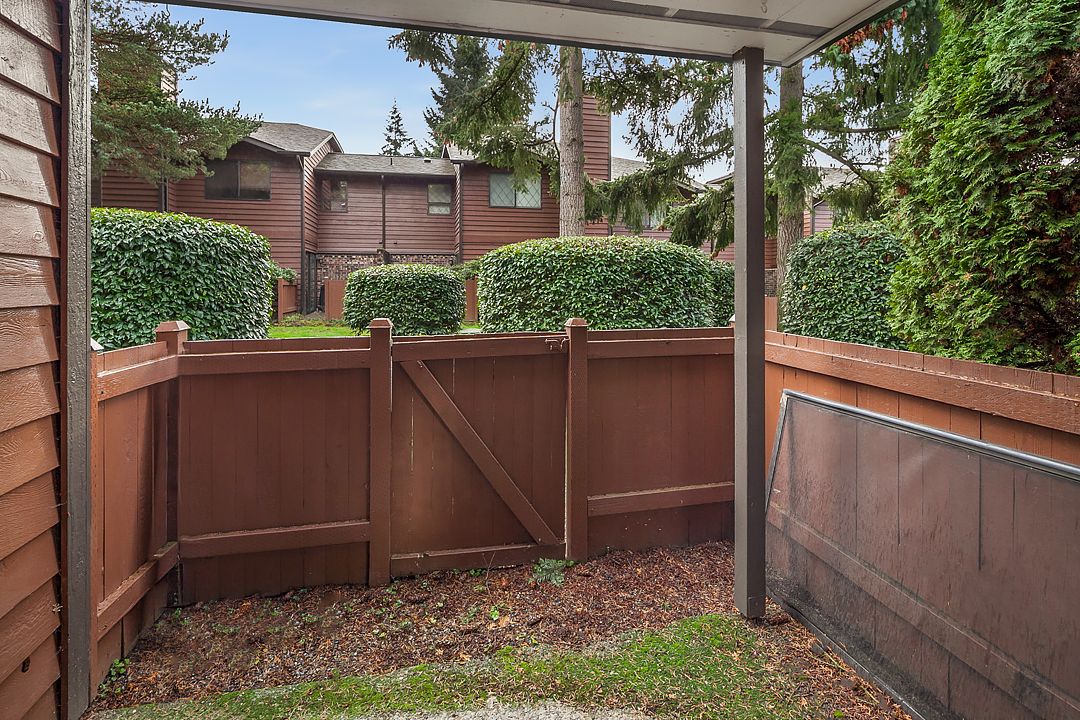 Outdoor living: Enjoy a drink after work and a lovely meal sitting in your outdoor patio space. The large trees and beautiful bushes surrounding your backyard will help you to feel like you are in your own private oasis.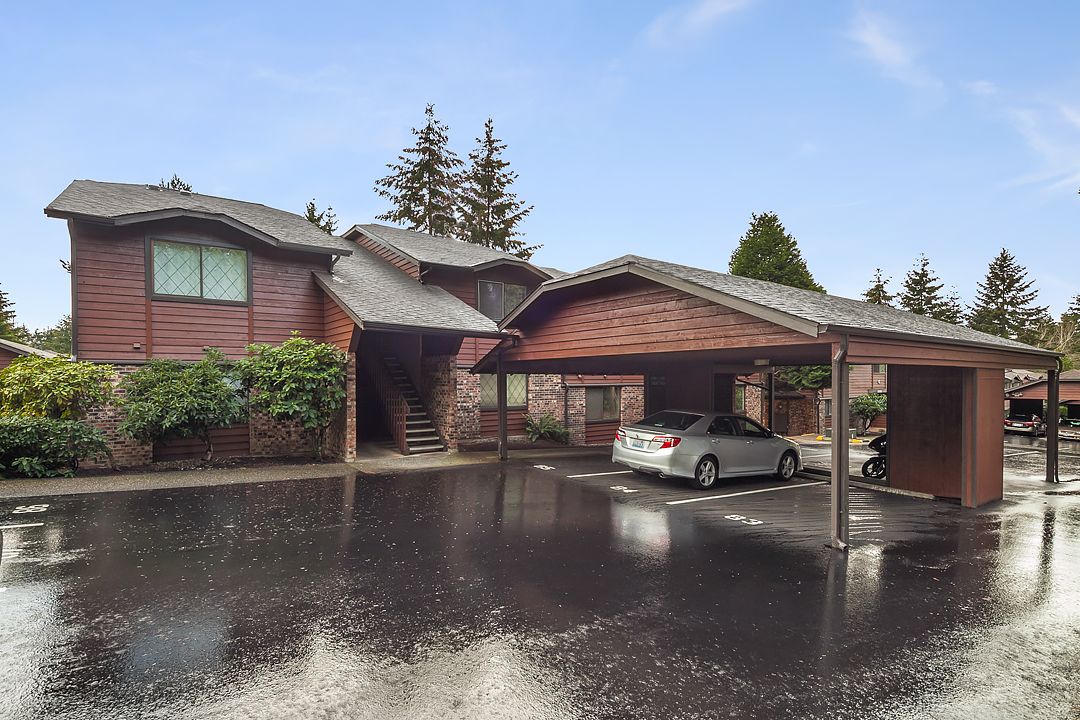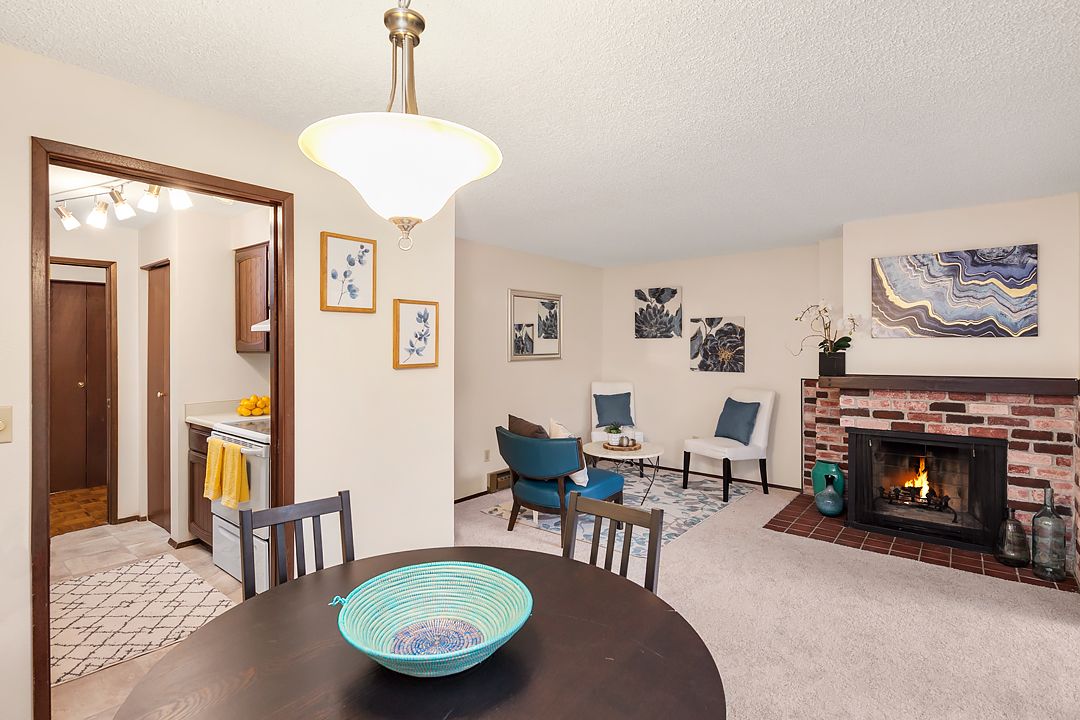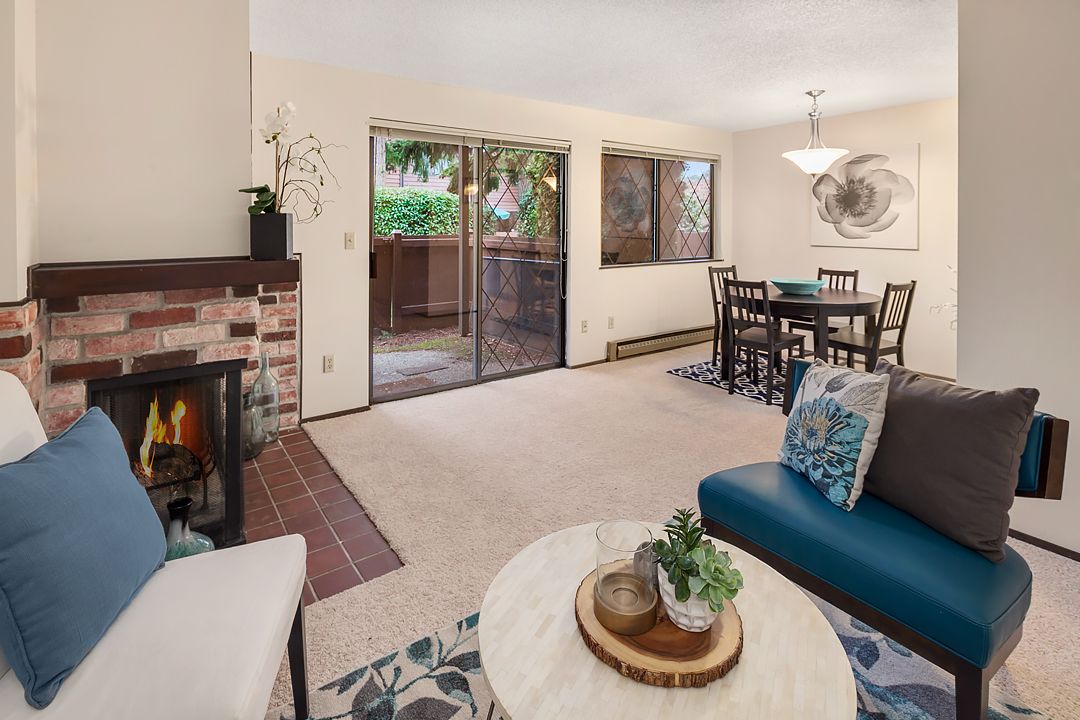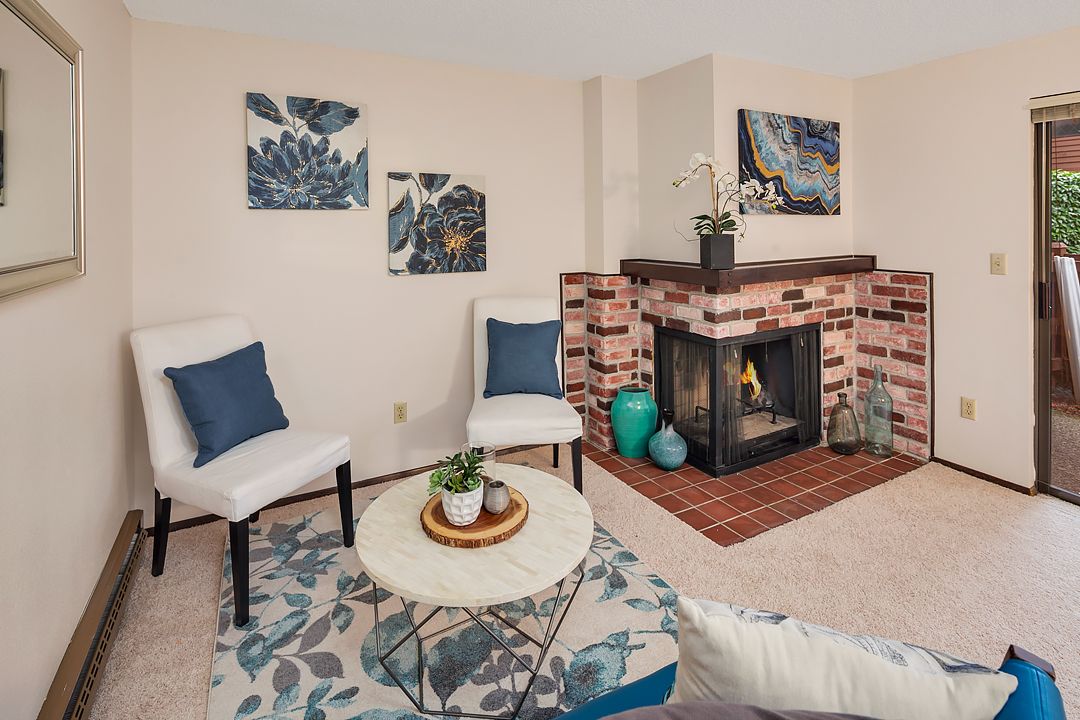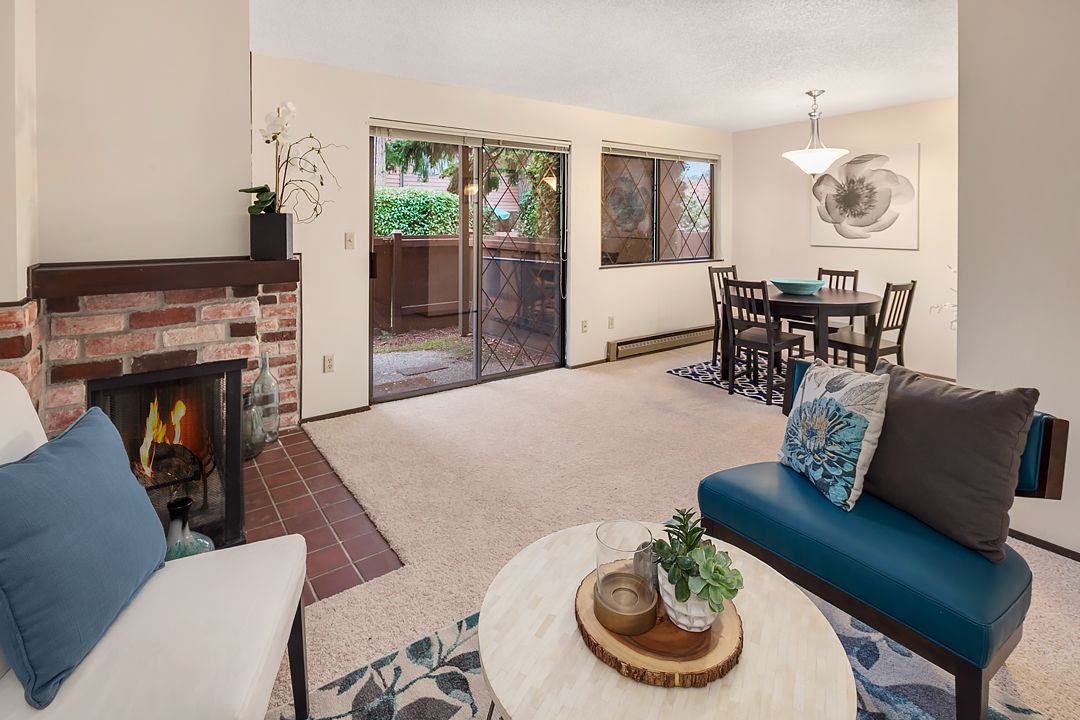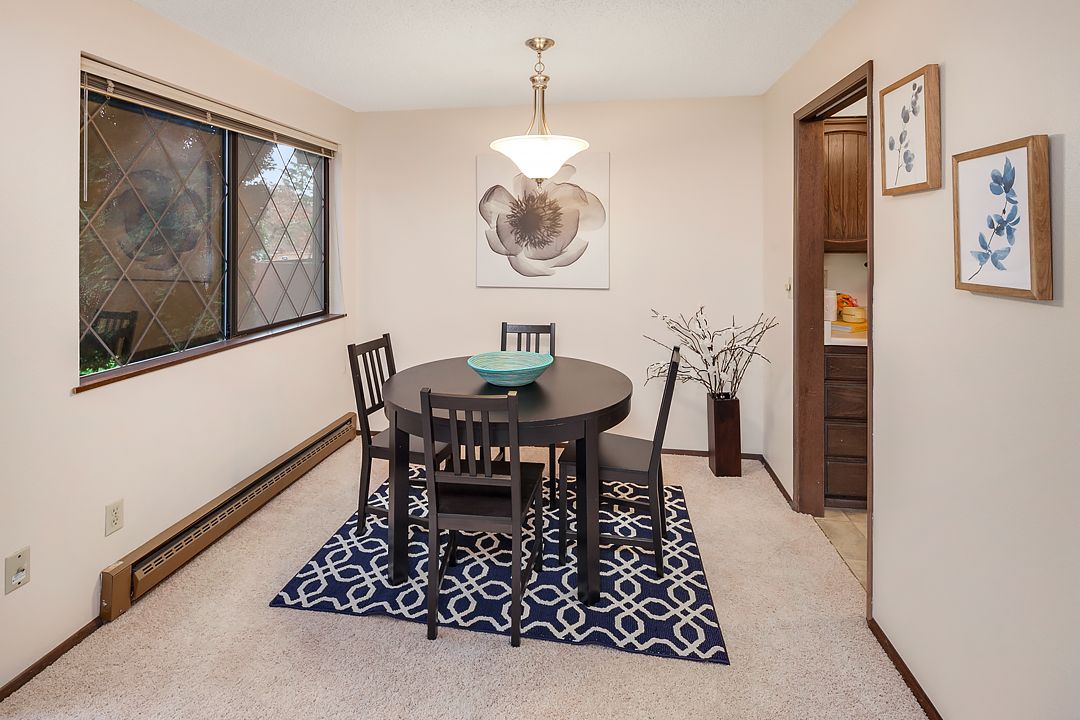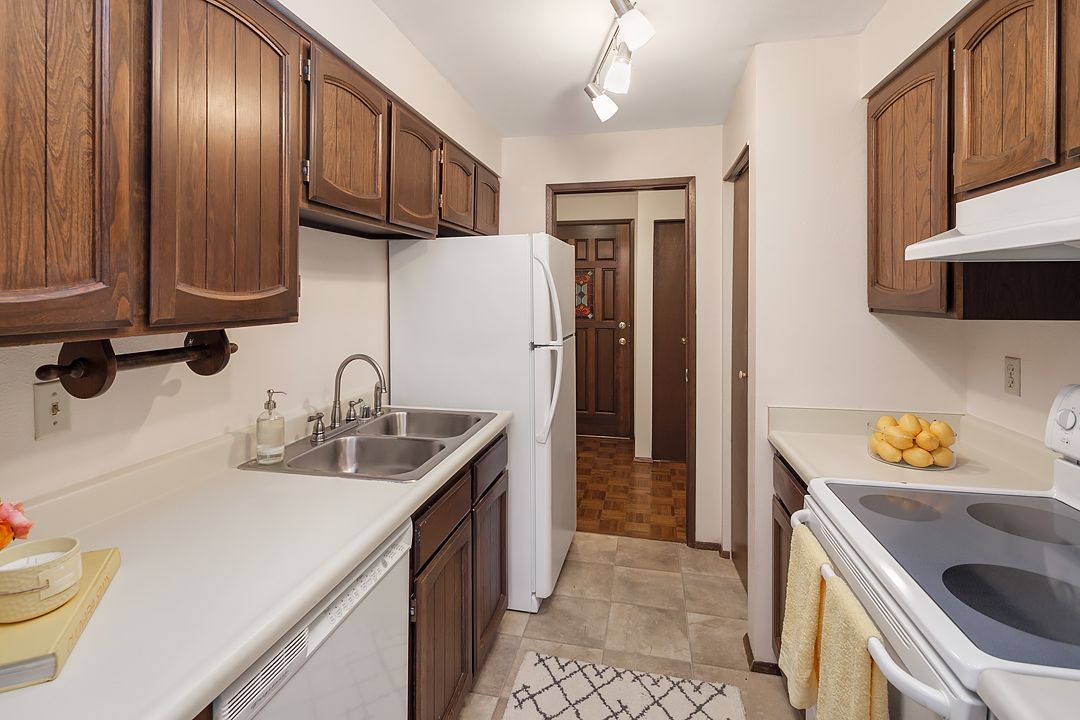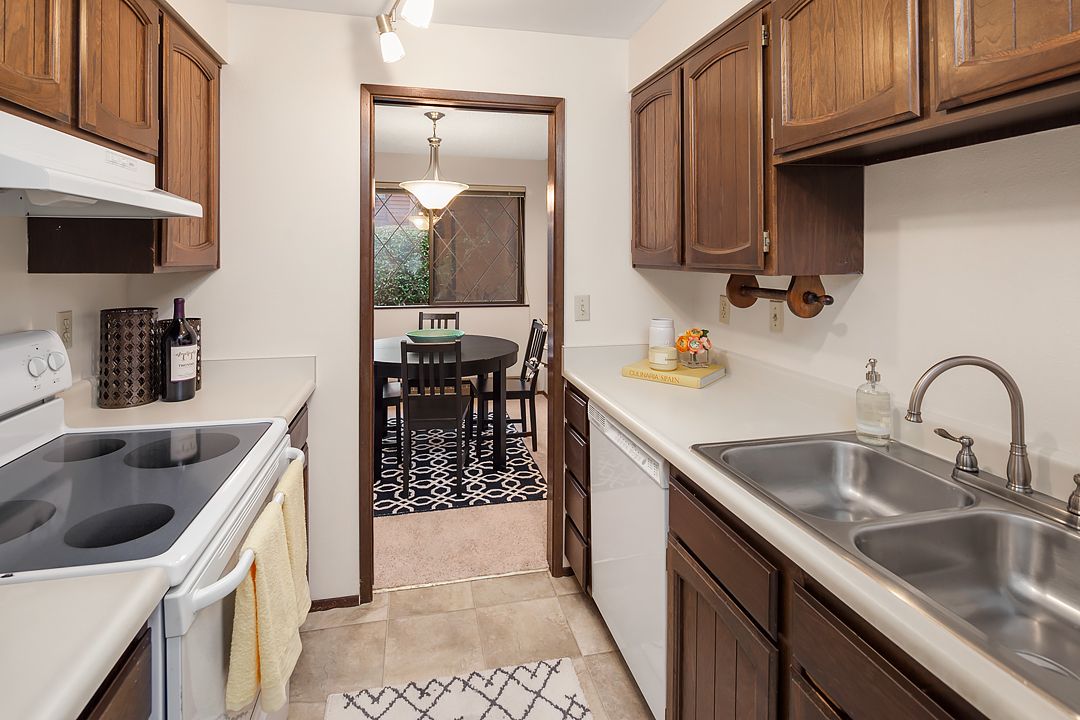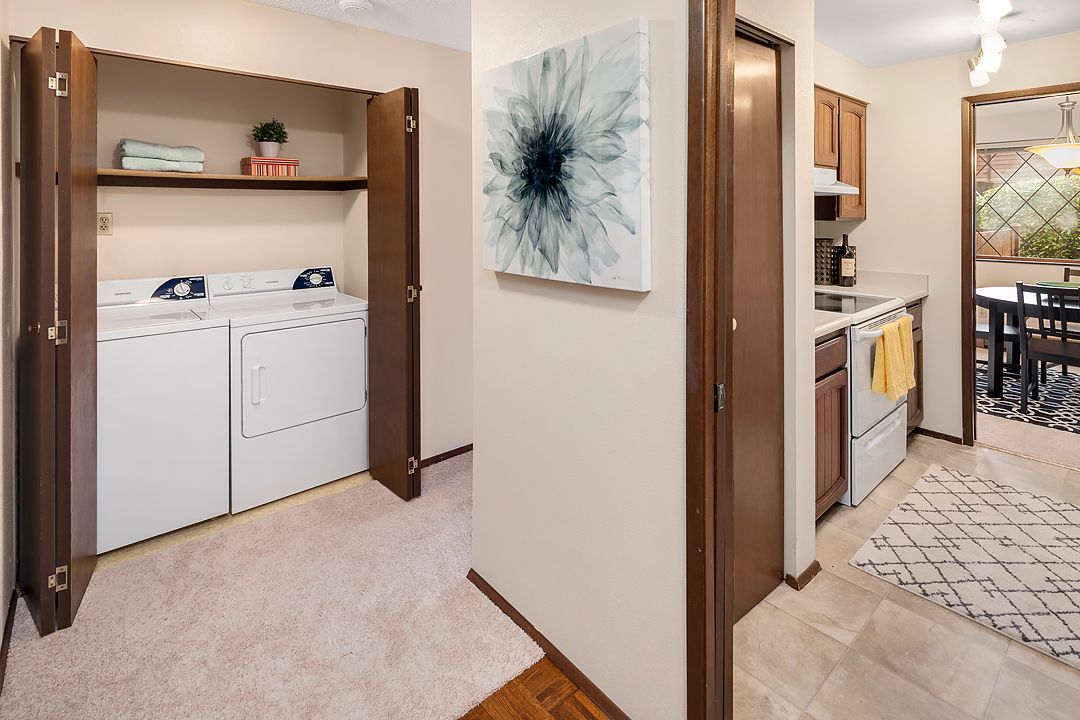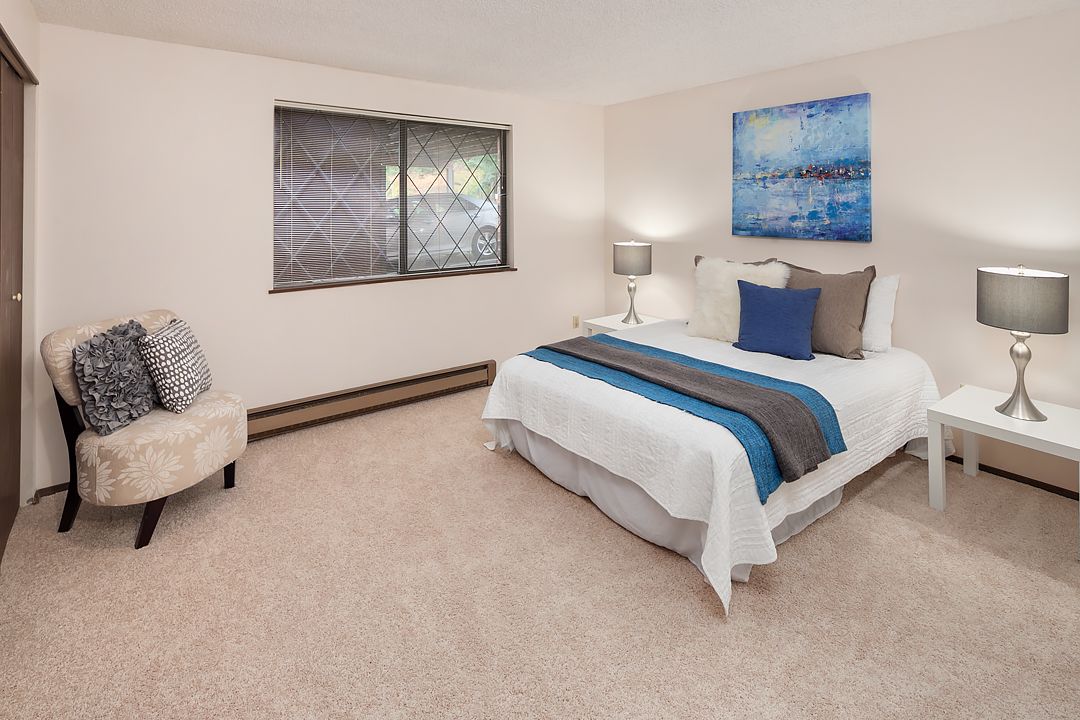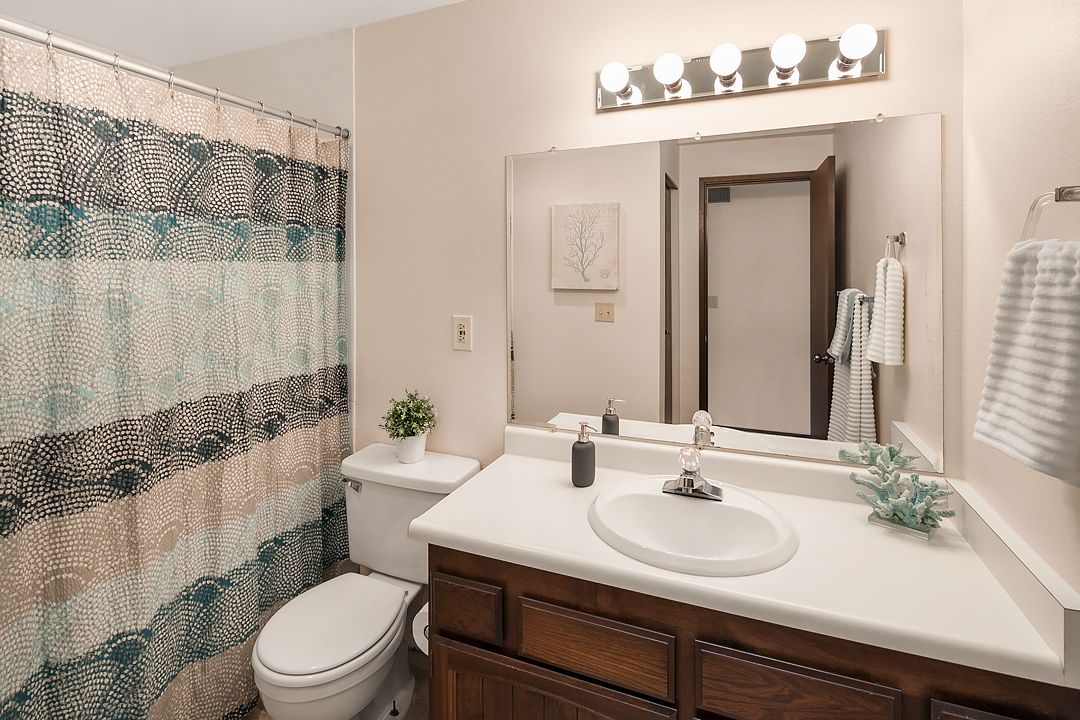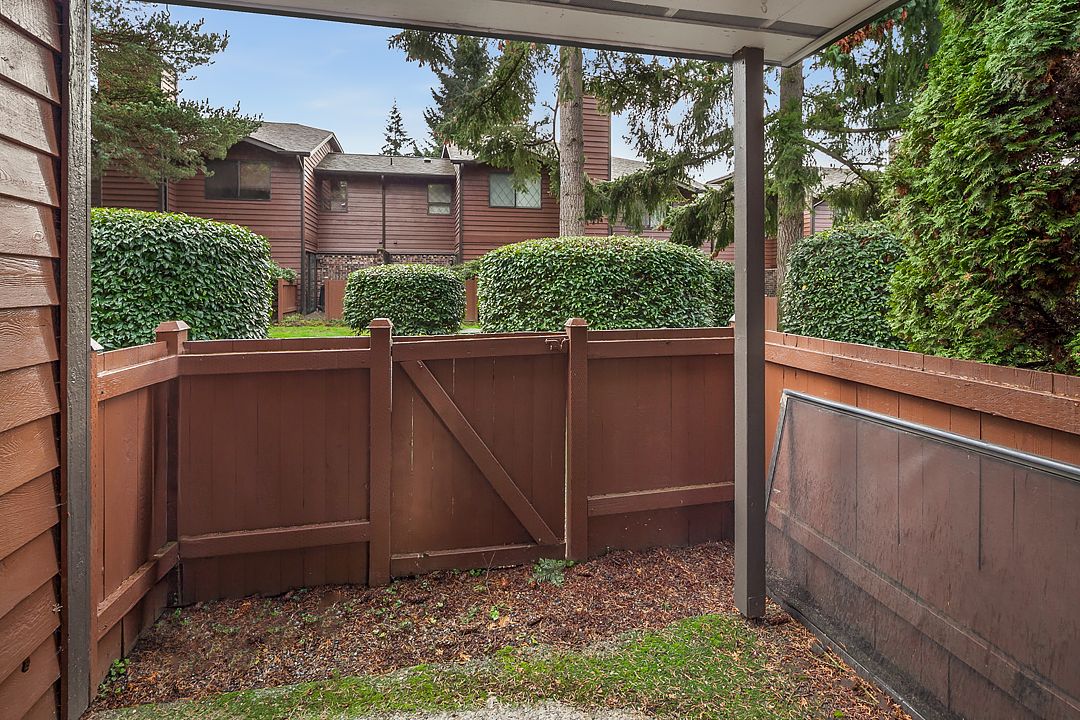 Details:
This cozy condo is located close to the beautiful downtown of Bellevue
Serene and beautiful trees and landscaping
1 bedroom with generous closet space
1 bath complete with tub & shower
Dining area
Enclosed kitchen
Brick, wood burning fireplace
New neutral carpet and paint
Outdoor patio space
Washer & Dryer space in the condo
Lots of closet space
Parquee floor entry
Neutral kitchen appliances, countertops and flooring
Dining area
Close to Crossroads mall, shops, restaurants, and Microsoft
Located on a major bus route
Conveniently located by I90, 520, and I405
Located in Bellevue, Washington
This condo offers 683 sq ft
MLS ID#1055346
Want to see this wonderful condo? Contact us for an appointment or if you have any questions about this or other properties in the Seattle area. Be sure to follow us on Facebook and Twitter to keep up with what is happening in and around Seattle, to see all of our listings and follow all the real estate news for the Seattle area.